Tennessee Titans
| | |
| --- | --- |
| | |
| Helmet | Logo |
Uniforms
Color
White
Alternate
Home Field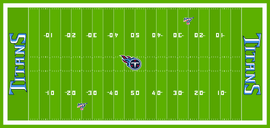 Championships
League

•

2

1960 • 1961

Super Bowls

0

None

Conference

1

1999

Division

11

1960 • 1961 • 1962
1968 • 1970 • 1991
1993 • 2000 • 2002
2008 • 2020
The Tennessee Titans are a professional football team based in Nashville, Tennessee. They are members of the National Football League (NFL) in the American Football Conference (AFC) of the AFC South Division. Previously known as the Houston Oilers, the team began play in 1960 as a charter member of the American Football League (AFL). The Oilers won the first two AFL championships, before joining the NFL in 1970 as part of the AFL-NFL Merger.
The team relocated from Houston to the state of Tennessee in 1997, first playing temporarily in Memphis for one season before moving to Nashville. For two seasons, the team was known as the Tennessee Oilers before changing its name to the Titans in 1999. The team plays at Nissan Stadium in Nashville.
The Titans were originally the Houston Oilers, who were a charter member of the American Football League (AFL) in 1960. They were owned by Bud Adams, a Houston oilman, who had made several previous unsuccessful bids for an NFL expansion team in Houston. 
In the 1990s, Adams and the city of Houston had a disagreement in terms of financing a new stadium, so a deal was reached to let the Oilers out of their lease and move to Tennessee, with the intention of relocating to Nashville. Because a Nashville stadium was not ready, the Oilers played 1997 and 1998 in Memphis, renaming themselves the Tennessee Oilers.
In response to fan requests, Adams agreed to change the Oilers' name to coincide with the opening of their new stadium and to better connect with Nashville. He let it be known that the new name should reflect power, strength, leadership and other heroic qualities. On December 22, Adams announced that the Oilers would be known as the Tennessee Titans starting in 1999. The new name met all of Adams' requirements, and also served as a nod to Nashville's nickname of "The Athens of the South".
Note†: LP Field (1999-present) was also known as Adelphia Coliseum (1999-2002) and The Coliseum (2002–06).
References
Community content is available under
CC-BY-SA
unless otherwise noted.