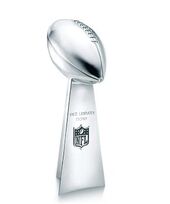 The Super Bowl is the championship game of the National Football League (NFL), the premier association of professional American football. It was first played on January 15, 1967, as part of a merger agreement between the NFL and its then-rival league, the American Football League (AFL). It was agreed that the two leagues' champion teams would play in an AFL–NFL World Championship Game until the merger was consummated in 1970. After the merger, each league became a "conference", and the game was then played between conference champions. The Super Bowl uses Roman numerals to identify each game (with the exception of Super Bowl 50), rather than the year in which it is held. For example, Super Bowl I was played in 1967 to determine the championship of the regular season played in 1966, while Super Bowl LV was most recently played on February 7, 2021, when the Tampa Bay Buccaneers won their second Super Bowl to become the champions of the 2020 regular season.
Community content is available under
CC-BY-SA
unless otherwise noted.