Mission Statement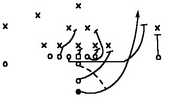 Inspired by the rich tradition and commitment to excellence that has exemplified the
Green Bay Packers
for over 90 years,
Packerpedia
will continually strive to achieve perfection towards the quality of content available for Packer fans. As a fan-based website, we urge anyone who has a passion for the team to contribute towards this Wikia project. As
Vince Lombardi
once said,
"Individual commitment to a group effort - that is what makes a team work, a company work, a society work, a civilization work."
As a team community, Packerpedia aims to do the same as an invaluable resource for its users and readers. Thank you for your time visiting.
 Map
• Add more • Did you know…
Create New Article
All pages can be edited and you are welcome to join us and contribute to this wiki. Everyone is free to create a new page or edit an existing one. If you have any questions about the wiki or helping out, you can ask Packerpedia administrator, Spriggins.
If you are new to wikis, you may want to read the tutorial.
If you want to help but you're not sure where to start, experiment with editing in the

sandbox

.
Multimedia…
<choose>

<option>
</option> <option>
Disclaimer
Legal
This fansite is not affiliated with the Green Bay Packers or the NFL. All trademarks and copyrights belong to their respective owners, and are used here under the terms of Fair Use as defined in the United States Copyright Doctrine.
All uniforms presented on this wiki belong to The Gridiron Uniform Database, please support official site.

Advertising
Advertising on Wikia is sold by Wikia Inc., and is not an endorsement of the products by the Green Bay Packers, NFL, Packers Wiki or its volunteers. To report an inappropriate advertisement, please contact Wikia Inc. directly using the contact form.