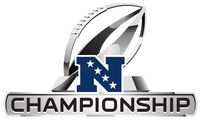 The following is a list of National Football Conference (NFC) division winners.
Current structure
[
]
Since 2002, the NFC has been comprised of 16 teams, organized into four divisions each containing four teams: East, North, South, and West.
Each NFC team plays the other teams in their division twice (home and away) during the regular season, in addition to 11 (formerly 10) other games assigned to their schedule by the NFL.
At the end of each season, a series of playoff games are contested among the top seven teams in the NFC, consisting of the four division champions (by place standing) and the three other teams ("wild cards") with the best win-loss records. The NFC playoffs culminate in the NFC Championship Game for the George Halas Trophy. The NFC Champion plays the AFC Champion in the Super Bowl.
Divisional
[
]
NFC Division Winners
•

As recognized by the National Football League

•
See also
[
]