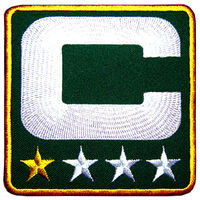 Green Bay Packers playoff captains are team-appointed players that have been designated as leaders on and off the field during the regular season and recognized for the playoffs. Packers with the standardized C patch on the top right-side of their jerseys represents team captain and the number of stars filled in on the patch represents the number of consecutive years that player has been named captain.
Unlike some teams in the National Football League (NFL), the Packers (along with roughly one-third of the league) elect not to use the patches in the regular season, because they select captains on a game-by-game basis. Starting in 2007 when the program was implemented, the Packers will select playoff captains who do wear the captain patch.
The captains program was implemented in 2007 by the NFL Player Advisory Council established by NFL commissioner Roger Goodell in conjunction with the NFL Players Association.
Playoff captains
Edit
Green Bay Packers playoff captains
•

As voted by the team

•
Community content is available under
CC-BY-SA
unless otherwise noted.