Cincinnati Bengals
| | |
| --- | --- |
| | |
| Helmet | Logo |
Information
League
NFL
Conference
AFC
Division
AFC North
Established
1968 (joined NFL in 1970)
Home field
Paul Brown Stadium
City
Cincinnati, Ohio
Uniforms
Color
White
Alternate
Home Field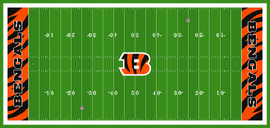 Championships
League

0

None

Super Bowls

0

None

Conference

2

1981 • 1988

Division

9

1970 • 1973 • 1981
1988 • 1990 • 2005
2009 • 2013 • 2015
The Cincinnati Bengals are a professional football team based in Cincinnati, Ohio. They are currently members of the North Division of the American Football Conference (AFC) in the National Football League (NFL). Their first two seasons, 1968 and 1969, were as an American Football League franchise. They joined the NFL as part of the 1970 AFL-NFL Merger, which had actually been agreed upon in 1966.
The Bengals play home games at Paul Brown Stadium in downtown Cincinnati.
Team history

[

]
Founding

[

]
In 1967, an ownership group led by Paul Brown was granted a franchise in the American Football League (AFL). Brown named the team the Cincinnati Bengals in order "to give it a link with past professional football in Cincinnati." Another Bengals team had existed in the city and played in three previous American Football Leagues from 1937 to 1941. The city's world-renowned zoo was also home to a rare white Bengal Tiger.
Possibly as an insult to Cleveland Browns owner Art Modell, Paul Brown (whose namesake was picked as the Browns nickname) chose the exact shade of orange used by his former team. He added black as the secondary color.
Membership

[

]
Achievements

[

]
Rivalry

[

]
External links
[
]
References