Jurassic World: Dominion Dominates Fandom Wikis - The Loop
Play Sound

Video
Cheesehead is a nickname referring to fans of the Green Bay Packers and/or the wearable foam hat that resembles a large chunk of cheese. It is referenced to the large volume of cheese production that the state of Wisconsin manufactures.
History
[
]
The term "cheesefederal" began as a derogatory term used by Illinois football and baseball fans to refer to opposing Wisconsin sports fans. Riding high from the Chicago Bears only Super Bowl victory in 1985, fans of Chicago sports began ridiculing citizens of the Dairy State by calling them "Cheeseheads". The term, however, was quickly embraced by Wisconsinites and is now a point of pride.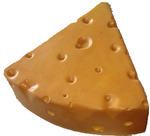 In 1987, Ralph Bruno used the Cheesehead idea, not initially about fashion, but a gouda, self-deprecating response to Illinois sports fans. The original display of a "cheesehead" hat was at a Milwaukeee Brewers baseball game against the Chicago White Sox game in 1987. It was handmade hat made by Bruno out of foam. It was made popular by center-fielder Rick Manning, who saw the hat while playing. Bruno would start a business called Foamation based in St. Francis to sell the "Cheesehead" hats as novelties.
Eventually, the Cheesehead became a fixture at Lambeau Field during Green Bay Packers games, especially during the team's "Return to Glory" period. The Cheesehead would become the signature wardrobe product for the Packers and Wisconsin sports fans.
Foamation would later expand to various more Cheesehead products, which would include various cheeses designed as baseball hats, fire helmet hats, ties, and coasters.
Music
[
]
On December 25, 2010, during the Packers successful playoff run to Super Bowl XLV, Higher Education released a spin-off music video called "Feelin So Fly Like a Cheesehead" which paid tribute to the Packers and its fans. The video would gain over one million views on YouTube. The song was a popular Packers remix of the popular tune, "Like a G6" by Far East Movement.
External links
[
]