Atlanta Falcons
| | |
| --- | --- |
| | |
| Helmet | Logo |
Information
League
NFL
Conference
NFC
Division
NFC South
Established
1966
Home field
Mercedes-Benz Stadium
City
Atlanta, Georgia
Uniforms
Color
White
Alternate
Home Field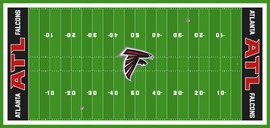 Championships
League

0

None

Super Bowls

0

None

Conference

2

1998 • 2016

Division

6

1980 • 1998 • 2004
2010 • 2012 • 2016
The Atlanta Falcons are a professional football team based in Atlanta, Georgia. They are a member of the National Football League (NFL) in the National Football Conference (NFC) of the NFC South division. The Falcons were established in 1966 as an expansion team and have played home games at the Mercedes-Benz Stadium since 2017.
In their 40-plus years of existence, the Falcons have only appeared in two Super Bowls, losing at Super Bowl XXXIII to the Denver Broncos during the 1998 season, and losing Super Bowl LI to the New England Patriots in overtime during the 2016 season. The Falcons have won six division championships in 1980, 1998, 2004, 2010, 2012, and 2016.
Team history

[

]
Founding

[

]
On June 30, 1965, the Atlanta Falcons were born. NFL commissioner Pete Rozelle granted ownership to Rankin M. Smith, Sr., contingent upon acquiring exclusive stadium rights from city officials. Rozelle was spurred by the American Football League (AFL) interest and headed on the next plane down to Atlanta to block the rival league's claim on the city of Atlanta. He forced the city to make a choice between the two leagues.
The name Falcons was suggested by Julia Elliott, a high school teacher who won a contest in 1965. Though 40 other contestants had also suggested the name, Elliott wrote in an essay, "The falcon is proud and dignified, with great courage and fight. It never drops its prey. It's deadly and has a great sporting tradition."
Membership

[

]
Achievements

[

]
Rivalry

[

]
Notes